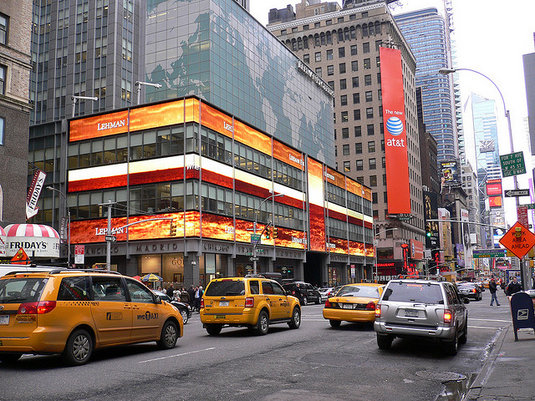 Somehow, Sept. 15, 2008 seems scarier in retrospect.
I went to the movies to see Wall Street: Money Never Sleeps today. I actually enjoyed it more than the first one. It takes place during the financial crisis of 2008 and includes several goings on that roughly mimic the collapse of Lehman Bros. and subsequent fallout.
It was hard not to think about what I was doing during those several weeks in September and how naive I was at how serious the repercussions of Lehman's collapse would be. I remember reading the original press release and feeling bad for those investor and media contacts at the top of the page. I wondered if they picked up the phone.
I remember walking by Lehman's headquarters on 7th Avenue not two weeks later and seeing its name had been stripped from the building's signage and replaced with Barclays. It was bright blue and hurt my eyes.
I doubt many Americans could even name the date that Lehman or Bear Stearns filed for bankruptcy (I had to look it up), but we sure all remember the consequences. Savings wiped out. Jobs lost. Pensions threatened. Talk of long-term economic consequences for recent graduates.
But even if the recovery happens more rapidly than economists predict, the psychological toll of ten years of no growth—no real growth anyway—could have a long-term impact on how we behave going forward. Anyone have a grandmother who lived through the Great Depression and only invests in Treasury bonds?
You probably lost confidence.
One of the greatest things I lost in the economic collapse was my confidence about what the right ways to think about economics, finance and investments were. I had always approached investing with a bit of skepticism. It seemed that market sentiment/investor behavior had so much control over stocks that research into fundamentals, like the P/E ratio, dividend yields, etc. mattered less and less.
But the Lehman collapse made that confidence even lower. That huge economic force overwhelmed whatever millions of genuinely bright ideas traders had the day before.
The erasure of confidence happened at a less sophisticated level too. Researchers at the University of Arizona, who had fortuitously asked students questions about confidence and finances in 2007, went back to the same group to see how their situations had changed. The results were striking.
They asked the students some finance-related questions in 2007 and in the follow-up. So they knew how adept the kids actually were at finance. After the collapse, the students actually did have a nominally higher understanding of finance. But their confidence in their financial knowledge collapsed.
The students, more than 90% of whom said they were impacted by the recession, also reported pretty bad coping strategies. Budgeting activities were up 3% but actual savings activities dropped 11% (probably due to a lack of resources). Dropping classes was up 169%, leaves of absence were up 106%, and shifting balances between credit cards was up 26%.
Students reported a 5% drop in psychological well-being due to stress. Even relationship satisfaction took a 6% hit.
Some psychologists think the recession's effects on overconfidence might be fleeting. Apparently, overconfident people have a tendency to bounce back quickly from setbacks, especially when they don't hold themselves responsible for the setback.
Somehow I feel like for the students, and anyone who happened to be in a formative period, the recession will have a more lasting impact. But hey, I'm no psychologist.
The recession wasn't so bad if you kept your job.
The National Bureau of Economic Research's announcement that the recession ended in June 2009 was met with widespread derision, as Weakonomics points out. All the "end" of a recession means is that the economy is growing again. The economy can grow and still suck, just as the Nationals can be a better baseball team this year than last year and still suck.
The thing is, personal economies matter so much more than the economy at large. If you didn't lose your job, you probably made out all right. Maybe your savings took a huge hit. Used-to-be-soon-to-be retirees might have become frustrated that they had to work a few more years. But the real "losers" in the recession were the ones who stopped getting a paycheck.
On the other side of the coin, those who are looking for a job in 2012 will still not believe the recession is over. Those whose parents are working at age 75 because their savings were wiped out will have their confidence dampened until that situation is corrected.
So this is one case where I'm not so worried about America at-large but about specific Americans who went through particularly traumatic experiences during the downturn. I didn't lose my job. So I'll probably work and invest and go on with my life in 2015 the way I always have.
But I bet those kids who had to drop out of school, or those 30-somethings who lost their jobs aren't going to approach their finances and work the same way ever again.