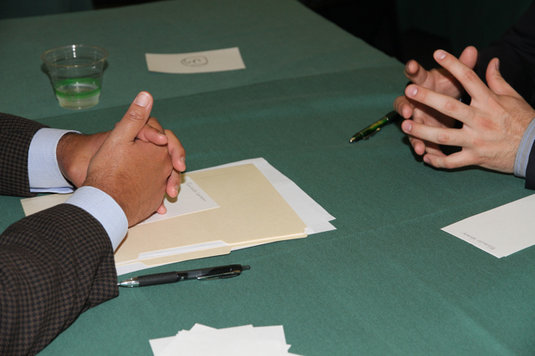 The difficulty with an improving economy
Every once in a while, I run across a comment on a blog or news story that reads something like this: "If you've been unemployed for more than a year, you're not looking hard enough."
It's mean, but I'm sure the writer believes what he says. They probably have a job and run across "Help Wanted" signs every once in a while, and can't reconcile that with the fact that more than 6 million people have been out of work for more than 26 weeks.
But now the jobless face another problem. If you do have a job right now, you have more job security than at any time in the last decade.
On Friday, the Labor Department released its monthly report on the number of openings, hirings, and firings that employers posted in January. It's a little different than the regular unemployment report that comes out at the beginning of the month. That one tells you how unemployment overall moved in the previous month. Whereas this one tells you how much hiring and how much firing added up to the overall unemployment figure.
The last few months of reports have been mostly the same. Firings have basically stopped. In fact, they're at their lowest point since the government started tracking them in 2000. But hirings haven't picked up at all, which leads to this worrisome conclusion (as stated by an analyst): "Generally speaking, all the data seem to suggest that if you already have a job, the labor market probably doesn't seem so bad, but if you're looking for a job, there's been almost no job market improvement over the last few years."
In other words, if you have a job, this economy doesn't feel so frightening anymore. If you don't, it's still scary as hell.
When long-term unemployment becomes a fact of life
America's traditionally been a country with rapid layoffs but rapid hiring. You'd be much more likely to lose your job at any given moment, relative to a country like France. But unlike the French, an unemployed American could get his job back quickly.
In fact, unemployment in countries like France, Greece, and Spain has been at 8% or so or higher for years. And at any given time, most of those people tend to have been out of work for more than six months.
Yet, you don't get the sense of urgency in fixing the problem that you get here. At one point, unemployment stopped getting worse in those countries, and the governments and populace settled into complacency. Maybe 8% unemployment was as good as they could do.
We don't yet know when and if the job-creation machine will revive in the U.S. But we're already starting to see congressmen and some economists declare that the government can't continue extending help to the long-term unemployed in the name of fiscal austerity.
It's going to be much easier for them to focus on the debt if the average man on the street no longer fears that he'll lose his job.
Unemployment is moving from "our" problem to "their" problem.
I have a job. And that BLS report I referenced tells me that job's safer than it has been in 11 years. So now, unemployment isn't so much an imminent threat that I want government to urgently address, but the problem of an ambiguous group of people who I only know through friends of friends or family.
Pretty soon, simply telling people that the unemployment rate is 9% isn't going to make people bat an eyelash, and I wouldn't be surprised if some politicians or jobseeker services start taking a lesson from foreign NGOs.
Are you more heartbroken by the estimated 925 million people who lived in hunger in 2010, or by this?
I
It's no accident that the narrator said the name "Michelle" six times. No accident either that once you start giving, you'll get a picture of the child and updates on his or her progress.
Economist George Loewenstein and Deborah Small ran an experiment where they presented potential donors a letter that requested money for a house being built for a family by Habitat for Humanity. In one version of the letter, which described the families, they were told that the family "will be selected" for the home. In the other version, they were told that the family "has been selected" and was just waiting for the donation.
Donations to the home for the family that "has been selected" were significantly greater. The reason? The economists think that making the beneficiary concrete and identifiable was all it took to pump up the giving.
I hope it doesn't reach the point that we need to run commercials with panicked jobseekers in order to keep them in the public consciousness. But as time goes on, let's not forget that one in 10 of the people we pass on the street every day are probably out of work.