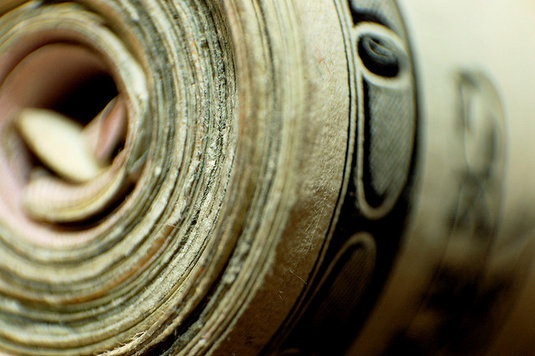 Or maybe we should be forced to contribute to retirement accounts?
We're bad savers. There's been much ado about the seemingly dramatic reversal of the personal savings rate—from about 2% to more than 6% in the last five years. But as Boston University economist Laurence Kotlikoff points out, you can make Americans' savings look really good or really bad just be reframing what you count as "savings."
Back to the task at hand. We're just not good at fulfilling the needs of our future selves. There are a number of reasons for this, but I bet you could divine the main one without me having to link to an academic study (you know me, that will be in like the next paragraph). We want instant gratification. That's not because we're shallow—our brains are just wired to want rewards now.
But that primal tendency has led to all sorts of bad habits, not the least of which is our miserable savings picture. According to the Center for Retirement Research, Americans, who are between 32 and 64 years old now, will be short about $90,000 on average to retire comfortably and "on time". News programs have recently wondered out loud if most Americans will have to work until death (as if their employers would let them!).
So how can we tackle this huge savings problem—both from a macro standpoint and a personal standpoint? And don't say the big picture doesn't matter to you. Last time I checked, we don't like old people lying destitute on our streets. We also don't like government programs that "bail out" individuals for their poor savings habits.
What other countries have done
The U.S. already has once "forced" savings program—Social Security. And we all know how well that's working out. But if you want to see a truly extreme forced savings program, take a look at Chile.
In that country, residents are required to put at least 11% of their salaries into a retirement account. Savers can choose a stock/bond asset allocation based on their risk tolerance, but as they age, they're restricted from putting extreme amounts into stocks. When it's time to start withdrawals, retirees can either annuitize their portfolios (almost 2/3rds do that) or take programmed withdrawals. Lump sums generally aren't an option.
Since Chile adopted its program, 10 some-odd countries in Latin America and Europe have implemented similar programs. President George W. Bush, when he was pushing for privatizing Social Security, called Chile a potential rolemodel for U.S. Social Security reform.
How is it working out? While I can't find a recent review in English, past reports on the program have been mixed. Chileans did indeed improve their retirement pictures, but huge chunks of investments were eaten by exorbitant fees levied by the investment houses that won the government business.
A report in 2005 said that as many as half of all workers wouldn't have a pension big enough to retire, even after paying into the private system for 30 years. I can only imagine those results have gotten worse, given the economic climate.
Are there good lessons we can take from it? Maybe the Chilean system wasn't so much a bad idea as it was bad execution. Behavioral economist Dan Ariely wrote in the Harvard Business Review that it was "brilliantly conceived", since it eliminated the psychological barrier that kept Chileans from starting to save and prevented workers from taking too much risk with their money.
But a couple problems I see:
1. It assumes the government knows what it's doing.
The Chilean system was wracked with high fees. That's a consistent problem with retirement programs here, too. Corporate HR departments are notorious for choosing 401(k) plans that charge way too much in fees and expense ratios. Although they've gotten much better over the years, some states still have 529 plans with inexplicably high fees and inappropriate investment choices.
Then there's the forced savings rate. Eleven percent is certainly more than many Americans save. But if you're past the age of 30 and are already behind in your savings, I can easily see a "needed" rate of at least twice that.
2. It assumes anyone knows what they're doing.
And then there's the allocation advice. While it's now widely accepted that the older you get, the less money you should have in volatile stocks, I constantly have to remind myself of the limited historical record we use as the basis for "common sense" advice. Two hundred years is not a lot of time.
That's not to say that the general concept of bonds being less risky than stocks is wrong—just that we're likely wrong somewhere on the margins as to how much risk we should take at any given time in our lives. Ten years ago, it was extremely commonplace for personal finance magazines to assume a 10% rate of return on stocks. Now, they scoff at that. It's more common to hear 8% or 6%. Over a 40-year investment horizon, that's a huge difference.
So what can we control?
Even if everything about the Chilean system was a good idea, there's reason to believe it wouldn't work here. Their big pension reform was launched in 1980, you know, during Pinochet's military dictatorship. I'm all for supporting ideas despite of where they come from. But that's way too easy a target for any politician wanting to shoot down "fascist" policies.
Of course, let's just assume you have to get this monster under control on your own. How can you overcome your personal weaknesses to get your savings going?
* Make fewer decisions. – Lots of practices you already know about fall under this banner. Choose to save for retirement once by automating reasonable savings into your 401(k) and/or IRA. It's easier to feel the pain of foregoing present expenditures once than to have to order the transfer of funds every paycheck.
Likewise, if your 401(k) plan gives the option, tell it to increase your savings rate by at least 1 percentage point every year. That way, you'll automatically stop yourself from inflating your lifestyle as your salary increases.
* When you do have to make decisions, suppress the part of your brain that values instant gratification. – I wrote earlier this month about a couple things you can do to make "distant gratification" more appetizing. One trick is to imagine your future self—what will your retirement look like? Will you go to the beach? Pick up sailing? That's something tangible to look forward to and save for, rather than an ambiguous "retirement".
* In relying on government programs, hope for the best, but plan for the worst. I'm not one of those people who thinks 30-year olds will have no benefits from Social Security when they retire. I am one of those people who thinks 30-year olds might have to retire when they're 70 or have permanently reduced benefits. Right now, reducing Social Security is a touchy subject in Congress, but it's one that some Americans are actually starting to support.
Ok, so maybe that wasn't a "behavioral" point, but after giving so much attention to Chile, I figured I might as well highlight our own forced savings program.