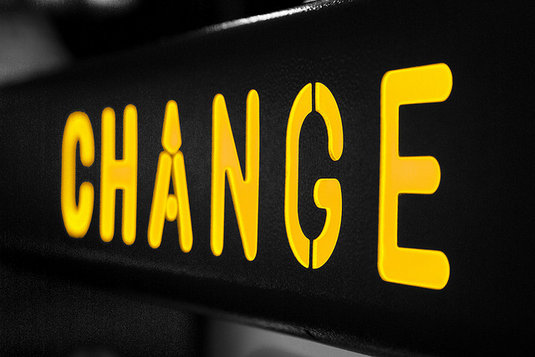 So, when can we start calling it the "old normal"?
Stocks have gone nowhere in ten years. Not even dividends have made it better. Sure, you might have had a bit of a gain if you stuck your money in emerging markets at the right time or gold or any of the other asset classes that turned slightly positive. But on the whole, buy-and-hold investors had it pretty crummy.
And yet, we still get this from Dave Ramsey (hat tip to All Financial Matters for noting the clip). On slide 12 of an otherwise smart little video on not rushing out to buy a new car, Ramsey throws out this line (paraphrased): "But instead of spending that money, you've invested it in a mutual fund earning the average stock market return of 12%." Bwahahaha.
A 12 percent stock market return is so 1998. We know now that 12% is wildly optimistic. Eight percent might even be optimistic. What's more reasonable? Take this sobering assessment from Bill Gross in Money Magazine this month: "Instead of 10% returns for stocks, look for five or so. And instead of the past 20 years' returns on bonds, which are actually better than stocks — close to double digits — it's 4% going forward." Oof.
Gross, and his colleagues at bond investment shop PIMCO, call this low growth period for investments and the U.S. economy the "new normal." It's hard to say PIMCO is "talking its book", because it doesn't see bonds as faring all that well either.
There seems to be a general consensus that PIMCO is more right than Ramsey is. But I don't think the implications of changing stocks' rate of return from 10% to 5% have sunk in. We acknowledge that stock returns will be poor, and yet all of our retirement advice—save 10% of your income…withdraw 4% in retirement—stays the same. So, for your viewing pleasure, here are a couple math problems.
How your savings rate changes.
Scenario: 45-year old making $90,000 per year. Plans to retire at 65. Holds a $200,000 portfolio.
In real life, this guy would slowly shift his money from stocks to bonds, but to keep it simple, let's just assume he puts it all in stocks. Since we're using an "average" rate of return, rather than the volatile real-life returns he'd really get, we're being generous.
Old math: If he saves 10% of his income per year (pretty standard advice), his portfolio grows to $1.86 million. Using the flawed-but-ubiquitous 4% rule, in his first year of retirement, he could afford to withdraw $74,400. Combined with Social Security, that's not a bad income.
New math: But what if his portfolio only returns 5% per year, as Gross predicts? If he held steadfastly to saving 10% per year, at age 65, he'd have $828,253. That would leave him with an income of just over $33,000 plus Social Security. That's less than half of the old math scenario.
Unacceptable, right? So what does he have to save instead? Please don't cry. That 45-year old, trying to achieve a $1.86 million portfolio with only a 5% return, would have to save forty-four percent of his salary per year. If he was willing to work until age 70 instead, he could save 28%. But still, that's a huge difference. I used the simple calculator here for all the calculations.
How your withdrawal rate changes
Oh, and about that 4% withdrawal rate. I've written before about how writers and planners twisted the findings of a few Trinity University professors into a mantra that at least one of the professors doesn't believe. But the 4% rule gets even more off base when you start to assume stocks grow more slowly than they have in the past.
Why? Well the Trinity guys used stock returns between 1926 and 1997 to inform their results. That's a time period that saw the United States rise from upstart nation to global superpower. Do we really think the pattern of returns we saw then is going to repeat itself going forward? As financial columnist-turned-money manager Scott Burns notes, when you start to factor in the sad truths of modernity—like lower interest rates, lower dividends, and, yes, lower stock returns—the rules developed by probability studies that were done just a couple decades ago don't seem to apply any more.
Shutting down in the face of uncertainty.
I don't save 44% for retirement. Not close. I don't save 28% for retirement. Still not close. In the face of numbers like that, it's no wonder that we'd rather hear about magical 12% rates of return on stocks that no one believes anymore.
The good news is that if you're young, you have time. And while you can't control what your investments do, you have a couple other dials you can turn to give yourself a chance to retire. One, is the aforementioned savings rate, no doubt the most painful of the bunch.
Option number two: Retire later. You're likely going to live to an age older than your parents anyway, and I'm sure you've had it in the back of your mind that it was never reasonable to work 40 years and then have a 40-year retirement anyway.
And option number three—the most fun option—is to earn more money. With a higher salary, you can save 28% but maintain the standard of living you had when you were earning less and saving 10%. Unless you have a defined benefit pension—and few private sector employees do anymore—this is the only truly guaranteed way to have a reasonable shot at early retirement.
Just a small prediction: You're going to be hearing a lot about earning more from me and personal finance authors in the coming years. Because we're finally starting to realize that investing well and being frugal just isn't going to be enough anymore.