Or what's going to feel like a double-dip anyway.
Don't read too much into that. I'm not making a prediction. But there are plenty of people who are. Nouriel Roubini, that guy who just happened to predict the first financial collapse, says it's likely we'll have a double dip, in which GDP drops again after going up for a time, or at least a long, slow recovery.
Plenty of other economists disagree. But as I've mentioned before, what's going to matter to you is not what happens to the economy at large but what happens in your personal economy. If you lose your job, the recession was terrible. If you didn't, it wasn't so bad. Yeah, it's a sad, selfish demarcation line. But I bet it's the truth.
However, it is becoming clear that even if there's no double-dip, the unemployment rate is going to be staying very high for a long time. And no one is predicting a strong, sustained rebound in the stock market either. You're still vulnerable to a crummy economy's effects even if you've made it this far unscathed. Here's how to prepare for the long slog to recovery.
1. Keep your emergency fund high.
Hopefully, you've been socking away cash in a money market account or money market fund, just in case unemployment strikes. When the economy started to add jobs again, it was probably tempting to cut that one-year emergency fund back to six months. Big mistake.
For one, let's put the job "growth" in perspective. In June, the economy lost 125,000 jobs, not counting seasonal farm workers. The unemployment rate did edge down to 9.5%, but that was due to thousands of workers giving up—not because they were finding jobs. Take a look at this chart, via Ezra Klein and the Brookings Institution. The "job gap" is how many jobs it would take to return to the employment level before the recession started.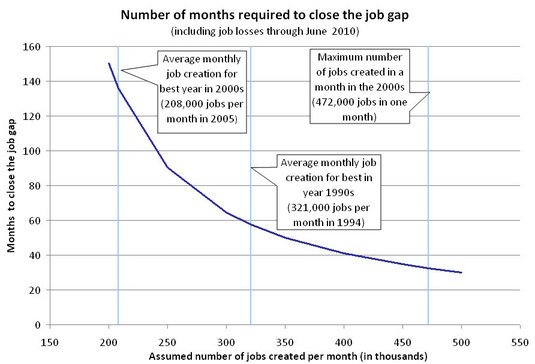 In what Brookings calls a "more optimistic" scenario, it takes five years to get back to where we were. In other words, losing a job is going to remain unusually likely and unusually painful for a very long time.
Another thing to be wary of: Congress is suspicious of unemployment benefits. For the last few weeks, the Senate refused to extend benefits, dropping the maximum 99 weeks you could collect down to 26. It looks like they're going to extend them at least until November. But next time, its passage will be even tougher. So, you would be well advised to keep that emergency fund high or even build it up further if you can.
2. Shed unnecessary contracts and expenses.
Contracts are the enemy of a crisis. Two-year cell phone agreements, DSL and satellite television contracts, adjustable-rate mortgages, you name it. Anything that locks in a monthly payment should be shunned like the plague.
I recently wrote that I could move into a cheaper apartment if I needed to cut my expenses. Well, actually that's not true. Not for another 12 months at least. In fact, cable TV, which in my case came with no contract, was a relatively innocuous expense. If you do lose your job, you don't want to be in a situation with high fixed expenses, which can't be downshifted if you're in trouble. Flexibility is your friend.
How do you cope if you're already locked in? Well, don't sign up again—that's a given. Rather than giving into the temptation to upgrade your phone and lock in another two-year contract, stick with your old one as long as you can and stay month-to-month. Choose cable TV over satellite—you probably can't get satellite TV for much cheaper anyway.
And in the case of a lease, check your local tenant laws to see what happens if you have to break it. Some states make it very difficult for a landlord to pursue a tenant who gives notice and leaves. And an understanding landlord would rather have you pay what you can and get out than face a tenant who can't pay and plans to squat through a long eviction process.
3. Become the most important person at work.
You don't have to literally be the guy who has all the passwords to have all the power. A knee-jerk reaction to turbulence at work is to put your head down and hope you avoid the axe. What you should really do is be visible. Be the one who offers business-growing suggestions at meetings or in a quick e-mail to the boss.
Exceed your sales targets if your a salesman. Finish the project early if you're a coder. If your company has to cut costs, they will spare the workers who gave them measurable, revenue-generating achievements, not the ones who simply stayed from 9 to 7 instead of from 9 to 5. Coincidentally, if your company doesn't fire anybody, measurable achievements that you can bring up at review time are also likely to get you a raise.
4. Network now.
There's not a worse feeling than losing your job and not knowing where to go. I've spoken to dozens of people who hadn't maintained their professional networks other than with a LinkedIn or Facebook account before getting their walking papers. (I am running out of cliched synonyms for "getting fired." Sorry.)
It's a sad fact that making connections and getting a new job are much easier when you already have one. So take advantage of that, um, advantage by attending networking events and setting up lunches or coffees with mentors, both outside your company and within it. I once had a boss whose wife asked him every Friday what he had done that week to prepare for his next job. Awesome wife.
5. Invest with caution.
One of the mantras I used to write, but now cringe at, is this: "Buy more stocks when the market crashes. They're on sale!" That's about as much of a truism as it is that your local Lexus dealer put a car "on sale" by slashing its price to $35,000 from $40,000. Still seems pretty overpriced to me.
This isn't a point about market-timing, just about us, "good" investors' natural tendency to take contrarianism to an unhealthy extreme. Yeah, stocks are a better deal than they were in 2007, but that doesn't make them such a good deal that you should make an outsized bet on their performance now. Don't try to make up for losses by taking extra risk with your retirement money.
But I'm actually more concerned right now with people taking extra risk with their short-term savings. Savings rates are abysmal right now. My Vanguard money market fund is paying 0.11%. Money market accounts are paying better, but not by much. This brings the temptation to "chase yield"—by putting money in higher yield, but higher risk investments.
Truth be told, I would be O.K. with my money market funds and money market accounts paying 0% interest—though that would mean I was lazy about finding a better option. My emergency fund is about liquidity and having the money when I need it, not about what that money earns. Peace of mind is its own form of interest.
So good luck out there. The recession is no doubt over, but your personal economy—or, dare I say, your pop economy—is still at risk.
Be sure to check out this week's Carnival of Personal Finance at NerdWallet. Your's truly was an editor's pick.