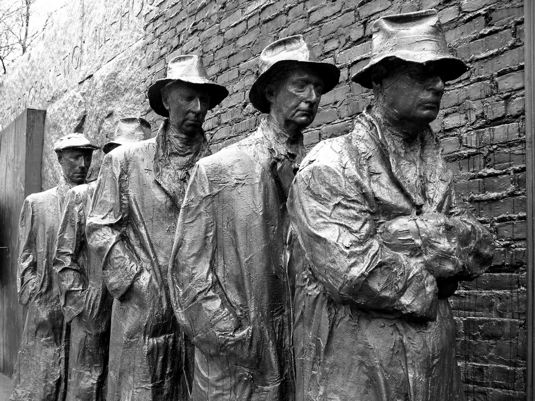 Sometimes we forget we just lived through history.
Or I should say, sometimes we forget we're living through it now. I read a post on Get Rich Slowly a few days ago that reminded me of that. Twenty years from now, kids are going to ask us what it was like to live through one of the worst recessions in American history, just the same way I asked my parents what it was like to live during desegregation and they asked their parents how it felt to fight a World War.
One time, at a circus, the performers brought me out of the audience to join in their crazy antics. I'm told I did really well. But looking back at the event, I really had no idea what was going on. Clowns danced behind me. Bright lights shone in my face. I knew the crowd was there but couldn't see it. A performer whispered instructions in my ear seconds before I had to follow them. I was so focused on performing, that I took very little of it in.
I kind of feel like that now. I have almost no perspective on the recession and what it's meant to my life. But I bet that very soon, we're going to realize that we've lived through extraordinary times. And maybe when we're all old and retired, our grandkids are going to want to know what it was like to be here, right now.
A few days ago, in a comment on that Get Rich Slowly post, I said that I didn't think I'd have anything interesting to say. So far, at least, I've been really lucky and haven't been directly impacted by it. However, I don't think that's going to be a good enough answer. This is a first draft of history if there ever was one, but this is what I think I'll tell them.

Nobody thought it was their fault. But it was everyone's fault.
No one admitted that they helped cause the recession. And if they did, they only did it in the context of laying blame on someone else. We heard bankers say, "Yes, we granted mortgages to borrowers who couldn't afford it, but they chose to take on that debt." We heard foreclosure victims say, "Yes, I took a mortgage I couldn't afford, but I figured they wouldn't give me a loan if I couldn't handle it."
But we all contributed to the crisis. Our family, too. Though they could afford it, your grandparents bought a house that was clearly overpriced. I didn't bat an eyelash when the appraiser just happened to hit the exact value your grandparents needed to get the mortgage approved. At the time, I shrugged it off as standard practice. If an appraiser did that nowadays, we'd call it fraud.
The next time a home on their street was for sale, the sellers probably looked at how high a price my parents paid and tried to one-up it. And so the housing bubble rolled on.
That was just our family's small contribution. The kindling for the Great Recession was a million little missteps stacked on top of one another. So when something finally did create a spark, it all went up in flames.

There were no soup lines. The worst of the pain stayed hidden. But it was there.
For me, it didn't seem so bad. My investments were cut in half, but I knew I had decades until I had to worry about retiring. I didn't see soup lines on the street like your great grandparents did or scores of newly homeless people crowding into tent cities.
But there were little signs of the pain all around us. Every once in a while, I'd drive down a street and wonder why I hadn't seen a car in a particular driveway for a while. A few days later, I'd see dozens of garbage bags piled in front of the house. They held the family's belongings. I'm not sure if the police would do that or if the bank sent a crew to clean it out. But that meant we had one less neighbor.
I didn't lose my job, though I was always in fear of losing it. I did know several people who lost their jobs. Even if they didn't have an emergency fund, most of them had families or friends to help. They didn't starve. But the real toll was emotional. They'd start a job search with optimism. A few months later they'd cry at night. For so long, we measured our self-worth by the strength of our careers. Not having one felt like a personal failure.

We went from feeling like we could control our own destinies to feeling like our destinies controlled us.
For a long time, politicians and economists wondered why a certain strata of poor, lower-class Americans strongly opposed taxes on the rich. Our best guess was that even though they were poor now, they believed that some day, if they worked hard, they could be among the ranks of the wealthy. America offered that kind of upward mobility.
But after the crisis started, many of us stopped believing that hard work equated to increased wealth. It seemed much more random. Workers near retirement saw their investments drop by 25% or more. So they had to work for several more years even though they followed all the standard financial advice. The advice wasn't wrong. It just didn't prepare us for the outside possibility that something so bad could happen.

What I hope I can say:
We started to see wealth as a way to make us happy, not as an end in and of itself. And we realized we were more than satisfied with what we already had.
We stopped blaming each other for what had already happened, and instead worked together to make it better.
I started an award-winning blog that now has more than 20 million subscribers and launched the career of a generation-defining pop artist (just kidding).
What would you say? What are you hoping you can say?