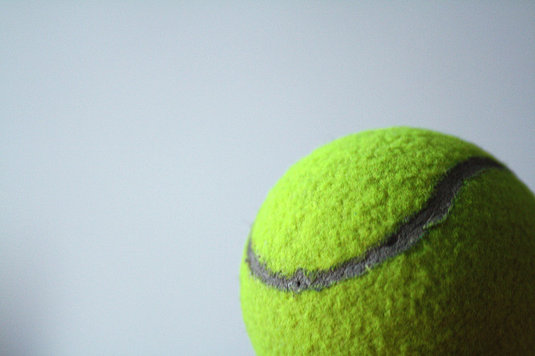 It's not a "motivation" problem.
If you're anything like me, self-motivation looks something like this.
Day One: "I need to get my act together and make more money!"
Day Two: Bought $20 book on career advancement. Very inspiring.
Day Three: Lots of options out there for advancement. Take classes? Career change? Ask boss for promotion?
Day Four: Man, there are a lot of important decisions to make. I'll think about it after a quick round of Angry Birds. *Motivation: Dead*
What happened to all that enthusiasm on days one to three?
It's harder to lift a finger than you realize.
Researchers from University College London asked participants to watch tennis matches and play referee. They'd make calls on whether the ball bounced in-bounds or out-of-bounds. Sometimes it would be close and sometimes not.
But before each test, the researchers told them that either in-bounds or out-of-bounds was the "default" decision. And they'd have to decide if they wanted to reverse the default, by lifting their finger from a button they held down.
On the close calls, they ended up being more likely to stick with the default, whether it was in-bounds or out-of-bounds. The referee could go either way with the play based simply on whether the researcher had said one or the other was the standard answer.
So what does that mean for my poor resolution to get a raise? I was faced with infinite possibilities, and that meant I was most likely to do…nothing. Think about it next time you try to motivate your kid with the "possibilities are endless" schtik.
So pretend for a few minutes that you're a rat…
Now's about the time that the ranks of gym goers—inflated by New Year's resolution newbies—start to thin out. I doubt those people woke up today and decided being healthy wasn't as important to them anymore. It's probably not even that going to the gym was too "hard."
Truth be told, if they could have gotten through it just a few more months, they might have achieved a healthy pattern for life.
But to help me explain let's back up a little bit. Pretend you're a rat.
Stay with me here. You're a rat. I put you in a maze.
When you get started, you don't know what to think. There are these white walls that lead you down various paths. There's a bright light shining in your eyes. There are seemingly random noises and smells. But after some exploring, you find a piece of chocolate.
I make you do the maze several times. Over time, you start to realize that the sounds are leading to the chocolate. So eventually, you're following the sounds almost automatically out of the gate.
It's not what we'd traditionally call a "habit", but that's what a couple researchers did to a bunch of poor rats at MIT while monitoring the rats' brains' neurons to see what happened as the habits formed.
When the rats were just learning the ins and outs of their environments, their neurons fired like crazy—each sight, smell, and sound seemed like possibly relevant information. But once the habit formed, the rats neurons calmed down, only spiking at the very beginning of the task and when they found the chocolate.
In effect, the researchers think the "learning" of the habit replaced the constant evaluation and re-evaluation of what to do next.
Then, the researchers tried to break the habit. They removed the reward altogether. At first, the rats still followed the sounds, but after a little while, they realized the rewards no longer came and "forgot" to follow them. But when the researchers put the chocolate back, the old habits came back immediately, without the previous learning time.
What does that mean? In short, old habits die hard. Reintroduce yourself to why you enjoyed the task in the first place, and those old neural pathways reignite faster than when you first developed it.
Using defaults and habit forming to your advantage
Last night, I listened in on a great talk hosted by Ramit Sethi with B.J. Fogg, a Stanford psychologist who's done a lot of work on how technology can be used to influence our behaviors.
He and Ramit spent a bit of time talking about motivation, and how Fogg thought people could get over inaction and establish the good behaviors they "know" they should be doing but can't seem to motivate themselves to do.
One of Fogg's favorite strategies? Baby steps. He commits to do something regularly, no matter how seemingly insignificant.
For example, Fogg wanted to start flossing regularly. First, he kept the floss right next to the toothbrush to make sure the two activities were connected. But more interesting was his "commitment."
He would floss at least one tooth per day. That's it. If he flossed that one tooth, he considered it a success. Before long, he just started flossing his own mouth out of habit, and now, he doesn't even have to think about it. Flossing's just part of the routine.
But remember the rat. Now that the habit's developed, even if Fogg runs out of floss one day or forgets to bring it with him when he travels, it will be easy to slip back into the routine again later. He's hopefully greased those neural pathways for all time and will be reaping the benefits of a healthy mouth into old age.
The lesson there? Small…extremely small…habits, developed over time, can turn into unstoppable forces. Even more unstoppable than our tendency to default to laziness.