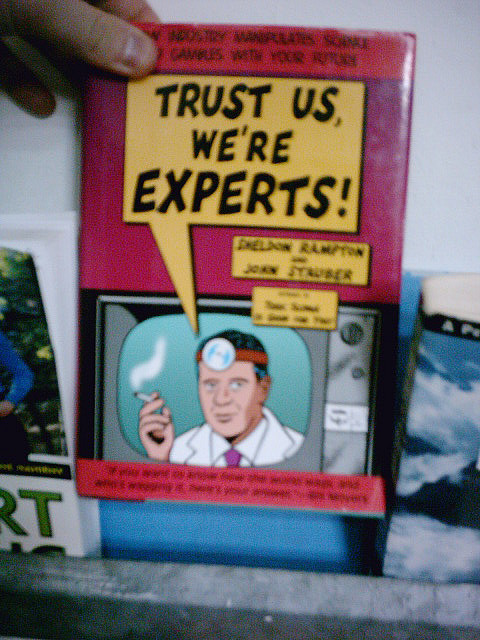 Is your default "trust" or "no trust"?
After the accounting scandals earlier this decade (think Enron and WorldCom) many economists were puzzled as to why investors didn't pick up on problems sooner. Why weren't the accounting firms that supposedly checked up on these guys under more scrutiny? Why were they still not under more scrutiny after Enron blew up and accounting firm after accounting firm was revealed to be pandering to company executives?
Some economists decided that we were just naturally trusting of certain kinds of relationships. That might sound ridiculous until you start to think about it.
When I choose a contractor to renovate my kitchen, my default is "no trust". I've heard enough contractor horror stories that I'm going to want references and a contract that spells out what happens if he misses deadlines.
Do I show the same distrust with my doctor, lawyer, or hypothetical kid's teacher? For whatever reason—government regulation, certification boards, or whatever—I'm just more naturally inclined to believe the opinions that those types of people give me.
Some of this is changing of course. The performance of doctors and teachers in particular have been under intense scrutiny. But they're still professions that I just kind of assume are doing their jobs in the right way, in the same way that investors might have been assuming that Enron's accountants were doing their jobs.
Even though more kitchen contractors might be skeezballs than doctors (no offense, contractors!), when that doctor, lawyer or accountant does abuse that default of trust, the potential consequences are much more dire. You expect that contractor to have surprise expenses and delays. If the other guys rip you off, you might be blindsided.
Now, you just know that some economist, somewhere, had to go out and devise a diabolical "distrust game" to see the impact of trust or distrust in action, right?
The distrust game
In case you're not familiar with our new game's predecessor, lets do a quick review of the "trust game". In a typical version of the trust game, two players, Joe and Brian, get $10. First, Joe decides whether or not to send some or all of their money to Brian, and the money he sends triples. Then, Brian decides whether or not to send some of the money back.
So…say Joe trusts Brian completely and sends $10 over, which turns into $30. Now Brian, who has $40, can reward his trust by sending $20 back and splitting the take, can keep everything for himself, or do something in between.
Anyway, economists at Harvard decided to devise a new experiment where players take money from each other instead of giving it.
Eric starts with $0, and James starts with $40. In stage one, Eric can take up to $30 from James, but his take would actually be what he steals divided by three. So for example, Eric can take $30, leaving James with $10 and himself with $10.
Similar to the regular trust game, in stage two, James decides how much of the remainder to send to Eric. If Eric left him all $40, he could just keep all $40 for himself or reward the trust by splitting the pot.
Get it? Kind of like the trust game in reverse.
The Harvard professors tried out both the trust and distrust games on 134 college students to see if their behavior differed.
Uh, can you please make that understandable?
Sorry the games are hard to follow. I wish I conjure up a little widget so you could play the games yourselves, but the bottom line is this. In the trust game, the default is to not trust someone. You have to choose to give over part of your cash in order to have the possibility of the second player rewarding that trust or screwing you over.
In the distrust game, the default is to trust. You have to consciously decide how much you don't trust the guy and take money from him before the second stage.
As the experimenters predicted, with the new game, students were more prone to leave money in the hands of the second player. And in return, they actually got screwed over more often. Nice.
People don't distrust enough.
At least, that's the conclusion of the Harvard researchers. But more than that, the researcher plays into the ongoing collection of research that shows we're lazy bums. We're creatures of inaction and defaults.
Fixing defaults in other areas of our lives is pretty straightforward. You set up automatic deposit on your IRA to take money from your bank each month and don't have to worry about taking the action to invest 12 times a year.
But how do you fix a problem that involves a default feeling and one that you might not even know is bad? A couple decades ago, doctors were gods. Even now that we have more accurate performance measures and know about countless times doctors have screwed up, it's never crossed my mind to get a second opinion. In the same way, I've just kind of assumed my lawyers had my interests at heart and teachers were telling the truth.
Is that even something we should fix? I'm at a loss. It would be exhausting to have to second-guess everyone who provides a service.