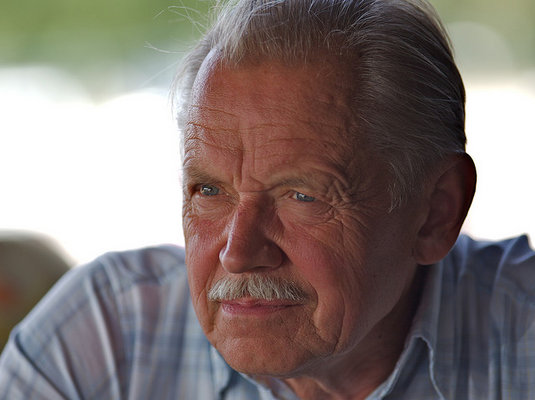 More important: How long can you afford to live?
Imagine living to the age of 122. That's the oldest recorded age of a human, achieved by frenchwoman Jeanne Calment. Calment died in 1997. Just last week, scientists claimed to have discovered genetic markers that can predict, with 77% accuracy, who's destined for extremely long life. Interestingly, the markers have nothing to do with the other discovered traits that are linked to certain forms of cancer and other diseases. The extremovives (I made that word up) had those "bad" markers in the same proportion as the general populace. Their "good" markers just trumped them.
Now, fear of dying—thanatophobia—is a pretty common thing. I'm happy to say I don't suffer from it. Either there is an afterlife, which is my personal belief, or there's not. And if there's not, it doesn't seem like death would feel like much of anything. I'm not afraid of nothing.
But anyway, if you did live to an old age, it seems like there would be something to fear: Going broke or becoming a burden to your children.
Why this is a good possibility
I'm happy to say that a lot of the better retirement calculators have begun to assume that you'll live to age 95, which is a pretty ambitious target. The T. Rowe Price retirement income calculator (not perfect by any means, but about as good as you'll get in a calculator that only requires a couple inputs) is one of them. But if you wander aimlessly through calculator land, it's easy to fall across seemingly legitimate alternatives that default your expected age of death to 85 or even earlier. The AARP Retirement income calculator uses life tables from the National Center of Health Statistics to estimate age of death. Of course, the problem with that is that retirement planning should be about worst-case scenarios (or at least, probable worst-case scenarios), not simply about averages. Tell the calculator that you're a 30-year-old male, and it only plans out to age 76. That's pretty optimistic (or pessimistic…depends on what lens you're looking through, I guess).
So what age should you plan to?
Well, let's just assume that you're not going to live longer than Ms. Calment. I've already said that age 75 is pretty conservative. So we know the answer is somewhere in between, but that's a pretty wide range. How do we nail down the exact figure?
For one, you know your health problems, and you know your relatives. There's a strong correlation between the age your parents lived to and your dying age.
More specifically, according to the study I just linked to, if a father died between the age of 45 and 65, there was no predictive effect on his son's life. But for each extra year a father lived above 65, a son's average age of death would grow by two months. So, for example, if a father lived to the age of 70, on average, his son could expect to live 10 months longer than a similar kid whose dad died at 65.
For each year he lived above age 85, the son's life increased 3 months on average. Genetics weren't the only reason. The researchers found socioeconomic factors played just as large a role.
So starting there, if your parents died old, you're more likely to die closer to that 100-year mark. And if you improved your socioeconomic conditions from where your parents stood, you have an even greater chance of living longer.
But let's turn to those troublesome life tables put together by the Social Security Administration. It's real easy to misread these suckers. Under age 30, you'll see that a male is expected to live another 46.89 years on average—that is, until age 76.89. But go to age 66, and he's expected to live until the age of 82.28.
Since I'm saving for retirement, and I don't plan to retire until age 66, I'd assume that my savings need to last me until age 82, at a minimum. To be conservative, in my own planning, I'll probably knock that up to age 90.
Now what about that age 95 figure that's becoming so popular in financial planning circles? It seems that planners are trying to get you to save for an almost worst-case scenario. In the SSA tables, someone living to age 95 would have more than a one-in-four chance of dying within the next year. That might still seem reasonable to you, but in my mind, that's too extreme to be worth planning for.
Planning for a probable-case scenario
I can just hear a planner saying it now: "If you plan for age 90, you'll be sorry when those last five years of your life are miserable!" But that ignores the common problem with pretty much any retirement calculator or professional financial planning software you run into. It assumes you'll pick a spending rate and spend that inflation-adjusted amount right into the ground, no matter what happens in your portfolio.
I made the same silly assumption in my first guest post for Consumerism Commentary. You'd better invest conservatively in guaranteed investments!—I said—Or if you fall into that rare 5% failure rate of your risky investments, you'll be sorry!
That argument is as seductive as it is absolute. And it's true, according to the math. But the math ignores the human race's awesome ability to adapt. If you see your portfolio take a huge knock after you retire, you'll tamp down your spending. Likewise, if you come up on year 80 and still feel pretty darn good, you're not going to keep spending as if you'll die on your 85th birthday. In effect, you don't have to plan for your worst-case scenario when you're 30 or 50 or whatever age you are, you can plan for it as it becomes imminent.
What's the risk of this? That the worst-case, long-life scenario arrives, and you have to spend less between the ages of 90 and death (or whatever) than you planned. But I'd rather be a pauper at age 95 than be a rich man who never lived because he was saving for an improbable, worst-case scenario.
Note: I added a sentence about the father-son longevity study to clarify the study's results.