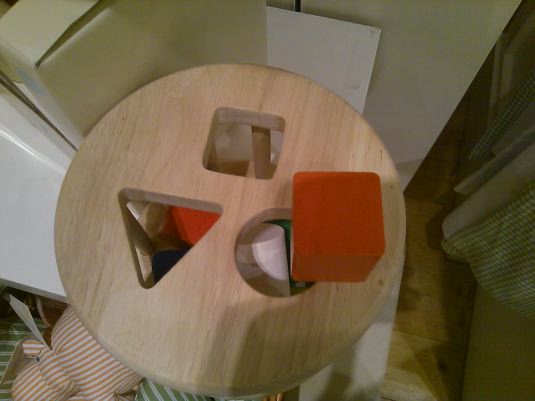 You can't fit a square peg into a round hole.
Ragging on equity-indexed annuities is a favorite pastime of the media, financial advisers, and state attorneys-general all over the place. The reason is pretty clear. Ever since equity-indexed annuities were invented, unscrupulous salesmen have pushed the worst versions of them onto seniors who don't understand their implications. Over time, their sales tactics became tied tight with the product—and something that might have actually had use to some investors became a producto non grata (no idea what the Latin word for "product" is).
Thing is, when you strip away all of the ugliness equity-indexed annuities have brought on, you're left with an investment vehicle that doesn't look nearly as bad as the blind criticisms make it out to be. That doesn't mean they're right for you. But how about we give equity-indexed annuities a fresh shot to see in what circumstances they might make sense.
I'm getting ahead of myself. Here's what an equity-indexed annuity is for those unfamiliar.
Striking a deal with an insurance company
At its heart, an equity-indexed annuity is an insurance contract. You fork over an investment to an insurance company, and it promises to grow your money at a certain rate of return. Equity-indexed annuities tie their returns to a stock market index, like the S&P 500. But unlike if you simply invested in the stock market directly, the insurance company promises a minimum rate of return, say 2% or 3%, that you won't dip below. You won't lose money.
Obviously, the deal wouldn't be worth it to the insurance company if that were it. As part of the deal, your return also won't go above a certain limit. Sometimes, the company gives you a hard cap. For example, you can't earn more than 7% in a year. Sometimes, the company has you participate in a percentage of the S&P's return. For example, you'll get 70% of the return—if the S&P rises 5%, you only get 3.5%. If that weren't complicated enough, different versions also calculate the return in different ways. Sometimes it's a simple price change. Sometimes it's the average of the monthly returns…don't ask…you'd be forgiven for observing that these are made to be impossible to understand.
And one of the most powerful deterrents to an investment is that you'll pay a hefty penalty for investing in one of these suckers and withdrawing your money quickly. Most of them have a surrender charge if you withdraw your money within the first three to ten years. And because salesmen often get higher commissions the longer they're able to lock you in, they push the contracts with the worst penalties. It turns out, some of the sales practices annuities salesmen use are heinous enough to bring down the wrath of lawmakers and Dateline NBC. But just in the interest of giving equity-indexed annuities a more-than-fair shake, let's set all that aside for a moment. Are they, apart from the tactics, useful products?
The weak criticism of an equity-indexed annuity
Most of the time, when I read criticisms of these things, they focus on a couple, pretty weak arguments. The arguments all stem from the same, false comparison: "Equity-indexed annuities make less money than a balanced portfolio of stocks and bonds."
Equity-indexed annuities most often don't include dividends in their computation of the S&P 500′s return. In that way, they won't perform as well as a simple index fund. I've seen some advisers show graphs that show—properly, I might add—that the annuities end up with a smaller return than a stock/bond portfolio over long periods of time.
But both of those arguments are pretty weak. Why? Equity-indexed annuities are a practically no-risk investment. Of course you won't make as much money as a stock/bond portfolio. A stock/bond portfolio can lose value, whereas this product can't. You pay for that safety with a lower return.
So in that way, it's much more fair to compare the returns of equity-index annuities to that of risk-free investments, like CDs, money market accounts, and Treasury bonds. Stacked up against those guys, the returns of many equity-indexed annuities actually don't look so bad.
One, big caveat: some of these contracts let the insurance company change the returns caps to reflect market conditions, meaning the cap you started with might not be the one you have next year. Not comforting.
The good case against them
Maybe they're not a bad product in and of themselves. But the question becomes this: How many people should put a significant amount of their retirement savings in an illiquid, risk-free investment? The answer: Not many and maybe no one.
Retirees would benefit from owning a risk-free investment. But they wouldn't be suited to the 10-year-plus surrender charges that keep them from accessing their money soon.
Young people wouldn't have to worry about the surrender charges. They have plenty of time to ride those out. But they also wouldn't be suited to saving a significant amount of their nest eggs tied up in a risk-free investment. Since they're young, they're supposed to take risks on the stock market for the higher return it makes possible. Having them invest a lot in an equity-indexed annuity is akin to putting half a 27-year old's nest egg in Treasury bonds. He'd have to save a helluva a lot of money to make retirement happen that way.
Which is kind of where equity-indexed annuities leave us. Not evil (though maybe salesmen take things too far), but not quite the right fit for anybody.