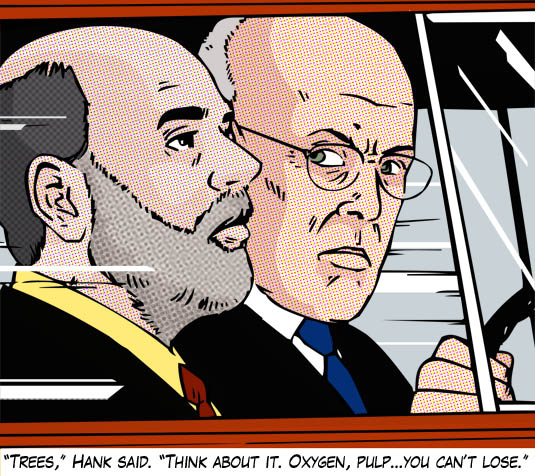 Take charge, seize the day, lose money
Have you heard about how much money you can make in Forex? How about managed futures? Or gold? Or timber? No, seriously, timber. A salesman recently showed me a chart of timber prices over the last decade superimposed on a chart of stock and bond prices. Man, timber blew them away.
In fact, more than any other time, I'm seeing dozens of salesmen claiming to have the "next big thing" to improve my diversification and prevent another lost decade from smothering my investments. I'm not going to lie, every once in a while, the idea piqued my interest. Maybe I'll just move 5% of my portfolio into a managed futures fund. Hell, I couldn't do worse than I did a couple years ago, right?
Let's face it. The market flattened us like pancakes, danced on our limp bodies, and screamed "What are you going to do about that, sucka?!" And naturally, we're bouncing to our feet and trying to find a way we can get even. That's what these new salesmen know. In short, they're offering us the illusion of control over our investing future.
Being in control makes us feel happy. This isn't just anecdotal—it's been proven in study after study that feeling in control produces optimism and high self-esteem. In contrast, studies have shown the absence of control produces withdrawal and depression. (Edit: There are lots of studies on the illusion of control, its causes and its effects. The two linked look at the effect of having power on the illusion and how it might be broken. But take a look at this NY Times post that's more germane to the control/happiness link.)
So it's really hard for a marketer to come up with a more seductive pitch than the take charge, can do, seize control of your future stuff we've been seeing lately. Take a look at this Charles Schwab commercial selling just that.
Dispelling the illusion
Of course, what they're selling isn't worth the mashed pulp it's printed on. Making a decision, in and of itself, doesn't help your investments at all. It just muddies things up. I haven't seen Schwab running advertisements screaming, "Our investors did twice as well as investors at other brokerages." And you know why? Because Schwab investors went down with everyone else. Similarly, gold, for all the hype lately, isn't even back to its 1980 peak, if you adjust for inflation.
Rationally, you know you have no control over the market, and as a result, little control over the results of your own portfolio. But you're not emotionally impervious to pitches like the one above—promises that you can take control if you just do something. However, there are ways to limit the damage.
1. Give yourself a sandbox.
In a sandbox, kids rule. They can build castles, get dirty, dig holes…whatever. But out of the sandbox, they play by the grown-up rules. The sandbox is an outlet to do whatever they want. I'm convinced that if we didn't have sandboxes, toddlers would wig out with crayons on the walls more often than they already do.
So, even though you rationally know you'd do better by sticking to a traditional, low-cost asset allocation, set aside 5% of your portfolio to try to beat the market. Put it in gold, or biotech stocks, or timber, or whatever else strikes your fancy. Simply giving yourself a little control, studies have shown, will make you a happier investor.
And the key: If you lose money by making active decisions, as you likely will, you'll have limited the damage. You're not likely to make that 5% go to zero. But even if you fall for some seriously bad investments and lose 50%, the overall impact on your portfolio will only be 2.5%. That's a lot better than messing around with the whole shebang.
2. Do something, but do the right thing.
If you insist on taking action, do the things that you know you should be doing but might have put off for a while. One easy one to knock off is to rebalance your portfolio. Bring it back in line with an allocation that's right for your age.
If I find myself with an itchy trigger finger, sometimes I rebalance in the middle of the year, even though my normal schedule is only to rebalance once, toward the end of the year. Yes, it's basically a form of market-timing. So why do I do this? It's a whole lot better than letting that itchy trigger finger wander over to a new asset class or make an extreme change in my balance of stocks and bonds.
You can also trade-up your mutual funds for those with lower costs. S&P 500 index funds all basically do the same thing. So there's no reason you should pay a 0.50% expense ratio in one, when you could get a 0.20% ratio in another. Vanguard is a good source for low-fee funds, but Charles Schwab is actually a low cost leader right now for most major index funds. (See? I see the bad and the good in companies.) Around tax time, you can also sell losing index funds and buy similar ones immediately, giving yourself a tax break.
To be honest, you might not walk away from the exercise completely satisfied. You'll know you'll have just danced around the edges. But the point of investing isn't to satisfy your ego-driven need to feel in charge. Because sometimes, you'll never be in charge, no matter how hard you try.
So what are you going to do about that, sucka?