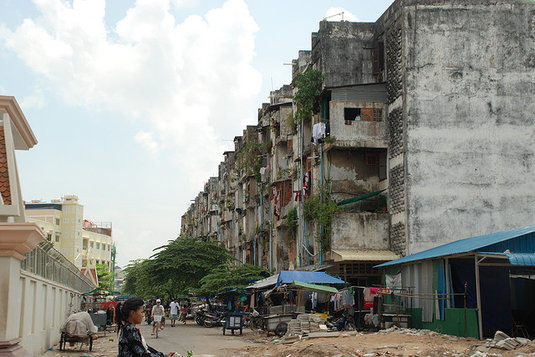 It's getting better, but not for everybody.
By haves and have nots, I don't mean the wealthy and poor. I mean those who have the right skills and the right jobs and those who don't.
I'm not really one to make predictions most of the time. When I do, they're often laughably false. But there's been a trend emerging in today's job market that most economists think will continue, and it's something that you really need to pay attention to if you're just starting out your career or are still in school. (Those of us who are midcareer are screwed. Kidding! Kind of.)
For the first half of this year, you're probably going to see a lot of news about how things are getting better in the job market, how employers have more job openings, and how hiring in some sectors (Hello, software engineering!) is going crazy. If you're outside of those sectors (Hello, construction workers!) the market's going to feel just as bad as ever. Maybe even worse.
The phenomenon is called structural unemployment. It's a different cat from the "cyclical unemployment" most economists hope we're in. In a normal job cycle, the job market comes and goes with the regular business cycle. So things are bad now, but as the economy improves, companies hire more and unemployment goes down.
However, it's possible that the cycle could be broken for now. That's not because the economy's not improving. It is. It's because the kinds of jobs that employers need to hire for aren't the kinds of unemployed people who are out there today.
Think about it. One of the sectors that's seen the largest rise in unemployment is the construction industry. According to the Bureau of Labor Statistics, construction suffered from 18.8% unemployment in November (around 6.9 million worked in construction at the time). In November 2007, that rate was only 6.2% with 9.6 million doing construction work.
Let's say all the jobs that the U.S. economy creates this year are in construction. Many economists expect the U.S. to create around 200,000 jobs per month this year. That adds up to 2.4 million in 2011. Even in that ridiculously positive scenario for the construction industry, their employment level still wouldn't be back to where it was in 2007.
Now think of the new openings you're seeing today. The housing boom hasn't exactly returned, right? Instead, we're seeing competition heating up in the technology and health care markets, which aren't exactly the kinds of professions you can take a former carpenter and plop him into.
So far, I've been playing around with extremes, but obviously this matters when you're deciding on what skill sets to learn going forward. Like I said, my crystal ball can at times be, um, defective, but here are a couple trends I'm pretty confident of.
For the love of God, go to college.
Much was written last year about how college degrees have less value than they used to. Something about how too many people are getting college degrees and too many people are majoring in useless stuff.
The thing is, the near ubiquity of college grads nowadays isn't making the degree needless, it's making it indispensible.
Seriously, this is not meant to be a knock on executive assistants. But there was one day when you didn't need a bachelor's degree to answer phones, screen calls, know your boss's whereabouts, and, you know, fulfill his needs before he needs them.
Now, "B.A. required" is right on the job description. My favorite/saddest link I stumbled upon while researching this post was somebody asking if he or she needed a Master's degree to become an executive assistant.
And it's not even that employers actually think jobs that can be learned quick need college degrees. It's that employers are desperately searching for some sort of filtering mechanism to bring the thousands of resumes they receive for every opening down to something manageable to look at.
Ex-con? Gone (despite sometimes being illegal, by the way). Unemployed? Gone. Bad credit? Gone. And requiring all of your applicants to have a college degree is just one more filter that allows a manager to bring his pile of applications down to something he can read in a manageable time frame.
How does that bear out in unemployment? The difference between the unemployment rate for those with a bachelor's degree and up and those with just a high school diploma in November 2007 was 2.3 percentage points. The difference in November 2010 was 4.8 percentage points.
In fact, the unemployment rate for those 25 and up with at least a Bachelor's degree was only 4.8% in November. That's more than twice as bad as it was a few years ago, but that's not the dire straights suggested by the overall 9.8% rate.
You're not a profession. You're a set of skills.
I've always found it depressing that "what do you do" is often the second question at parties, after "what's your name." Not only is it bad for that old, work-life balance, but it's also a bad way to think about your career track.
How about we break that mindset? I'll start.
I'm Pop. I'm not going to tell you my profession, and most of you who have guessed have been incorrect. Several of you have guessed that I'm Ben Bernanke. In fact, someone actually wrote this up in a college paper, which I won't link to because I know how it feels to be embarrassed by mistakes. But I think I'm pretty good at writing, math, and turning complex subjects into something everyday people can understand. I (just recently) have gained basic web publishing and marketing knowledge. And I think I have a decent eye for catchy design.
Ok, so what profession am I? No idea, right? That's the point. I could be a number of things. I could write technical manuals. I could be in marketing for an engineering company. I could be a teacher.
Those are all options because I'm not thinking of myself as "locked in" to one career track that one day could die, even if popular now. You know, construction managers used to have a pretty good gig.
I'm glad that I have several vehicles in my life that keep me learning, and with stuff like this blog, I have something to actually show employers I can do if I ever did need to find a new job. That's a good feeling.
Now let's take a hypothetical person in a job that's "good" now, but who doesn't keep learning new skills.
Let's make him a software engineer and say he works for an investment bank maintaining their old, internal computer programs. At one time, he needed to know cutting edge programming languages, but he's spent 10 years at this company, learning the ins and outs of a decades old system built on an ancient language.
Even though he's nominally a "software engineer", how much do you think that intricate knowledge of "proprietary computer system that no one uses" is going to help him on his resume? Almost none.
That's one of the reasons why programmers are so cognizant of finding jobs that let them deal in the latest languages. It makes them more marketable if they ever do need to look for something else.
So before you're in need of a new job, take an honest inventory of your skills to assess what you could do. Trust me, those construction guys are regretting that "construction manager" is the only thing they can think of to type into Monster.com.
Anyway, just some job thoughts to start off the New Year. Thanks so much for the feedback on the last post. I'll hopefully come up with a more comprehensive survey sometime in the next couple weeks. Happy New Year!